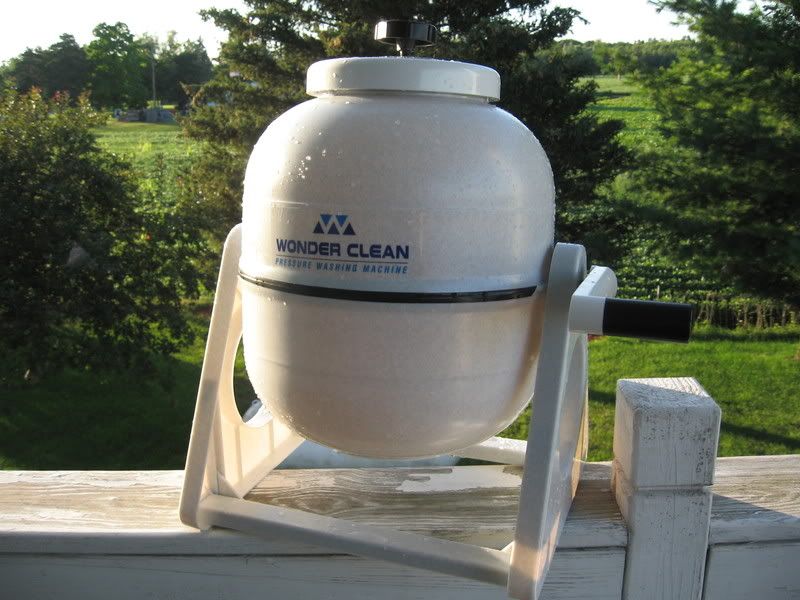 I have tried out my new time-saving, non-electric, handy dandy new gadget that I got. "What is it?" you ask. It's the

"

Wonderclean"

!
It is a miniature washing machine that works with hot water and a good seal. You throw some clothes in, add a little soap and the right amount of hot water. Close it up nice and tight and pressure builds up inside. Then you crank the handle for about 2 minutes. Voila! The clothes are washed. Well, almost. Then you have to rinse the soap out of your clothes, wring them out, then hang them up to dry.
I have been frustrated with having to go to the laundromat. Sometimes I only need a clean pair of jeans or some underwear. The laundromat is expensive and boring and takes up my valuable time. But up until now it has been inevitable. Then I saw the Wonderclean in the

Lehman's catalogue

(they have cool stuff for living off the grid or self sufficiency). I thought it was worth a try. It was only $45.00. I think it will pay for itself quickly.
So, my first experience was interesting. Things I learned: Wash darks alone -- they will bleed for sure (maybe my water was too hot), be prepared for some water getting spilled, rinse the soap out well. I wish the base was a little sturdier. It would be great if I could mount it directly to a laundry room sink (if I had one) so it didn't wobble around so much.
On the positive side: I don't have to spend 2-3 hours at the laundromat when I need a few clean clothes. I will save money. I'll use less electricity. This would have been handy during my time in Mali. I'd like to find a good quality, good for the planet, powdered soap. Any suggestions?
Overall, it won't replace the laundromat for my big laundry days, but it will definitely help.