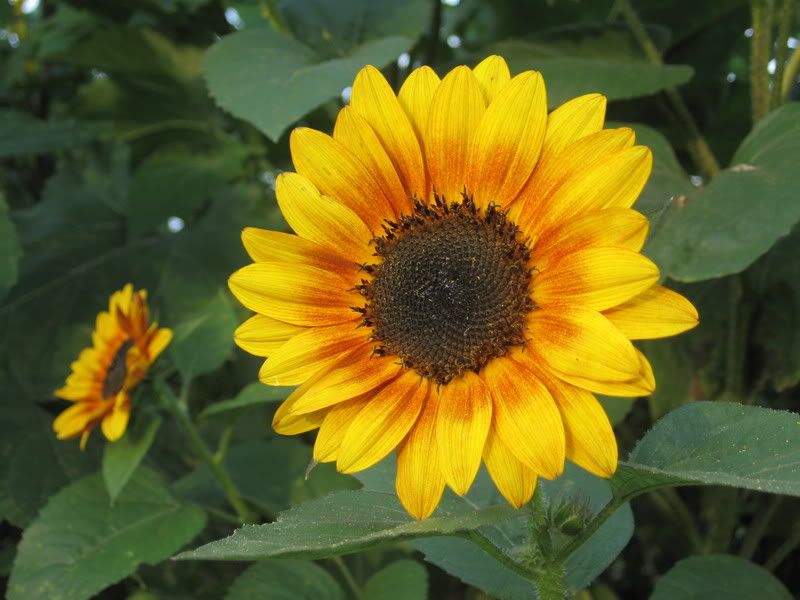 Just a quick update on my life...
Work: still busy with lots of overtime, but things should be getting better soon.
Garden: overflowing with zucchini and onions. The produce stand is in full swing with peppers, squash, potatoes, cucumbers, beans, and gladiolas. I made an awesome stir fry last night with all the wonderful homegrown veggies.
Home: a bit of a mess right now. I'm excited about a new contraption I got that I have to try out and I will review in a later blog. It should make my life easier. Are you intrigued?
Husband: Doing fine. He's working tonight but has managed to go fishing with his brother lately. The two of us are still deeply in love and enjoying life together.
Family: who? It has been too long since I have seen them.
Cat: still fat and sassy. She is relieved that I found a home for a little lost starving kitten who wandered up to me and snuggled her way into my heart. Clementine (named after those tiny little tangerines because she is an orange kitty) was so sweet that I know she was not a barn cat. One barn cat even tried to kill her. After their fight and hearing a coyote howling closer than usual, I put her on our back deck for a night and a day. She didn't like being alone, but I couldn't bring her in either (or Sassy would have freaked out). Luckily I was able to find her a home. It made me feel good that I could help her.
Me: a bit worn out and lonely, but overall I am doing well. I've been enjoying the Olympics when I can. Just staying busy.